I've never been a huge Facebook user. Instagram is my preferred method of stalking and um ahem sharing the happenings of my life with the world (You can check me out by searching
@fablihareza
). Both Spain and Paris were filled with picture perfect, postcard worthy scenes. These are a couple of my faves that my iPhone and camera managed to capture...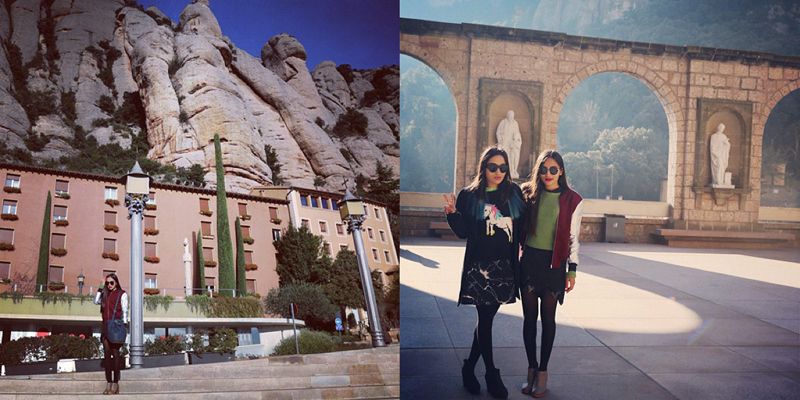 Tasfia and I at Montserrat: Visiting Monteserrat was one of the highlights of Spain. The view from its top was breath-taking and the jagged rocks that form it are bizarrely beautiful - they look like an abstraction of human figures
.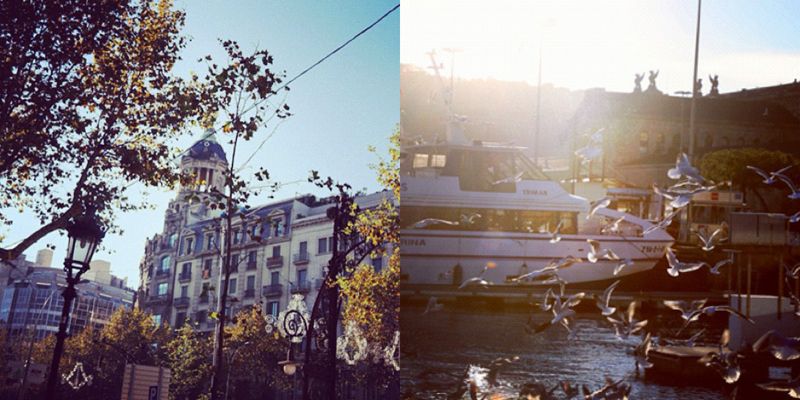 LEFT: Somewhere along the pretty streets of inner city Barcelona RIGHT: Boats and birds at dusk at Port Vell
LEFT: A beautiful

c

andy-coloured sunset in Barcelona. I swear the sunsets use a different colour palette in this side of the world! RIGHT: Getting cartooned at La Rambla; a

p

edestrian street in Barcelona with street artists, market

s

and delish local restaurants
LEFT: Flying over the red Australian desert

RIGHT: Outside Barcelona Cathedral in the Gothic Quarter
LEFT: The picturesque seaside of Catalonia

RIGHT:

T

he twinster, Tasfia and our little sis Sierra
At Park Guell

,

a beautiful Park designed by (unquestionably) the most revered Spanish architect, Gaudi. Gaudi's work is biomimetic and so you can see starkly beautiful reflections of the natural world in his work + the view of Barcelona from the park's top is unreal!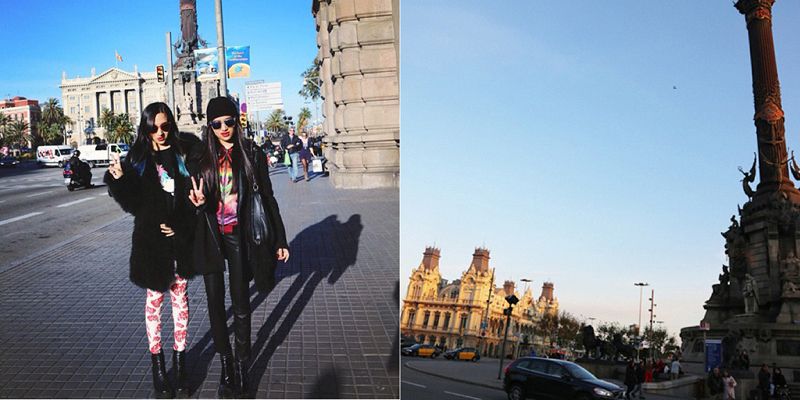 LEFT AND RIGHT: Us + Barcelona
Another massive highlight of

our trip to Spain

was our visit to the Salvador Dali

m

useum. I've already raved about it in an earlier post but I've got to mention that it is aweinspiring-ly cool.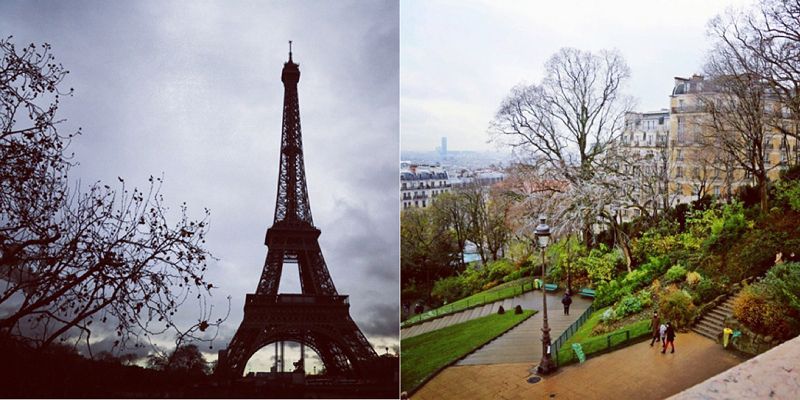 Even the second time round, Paris was as beautiful as ever. We were lucky to be staying at a hotel just a few steps away from the Eiffel tower and so we were able to truly admire this beauty (to the left)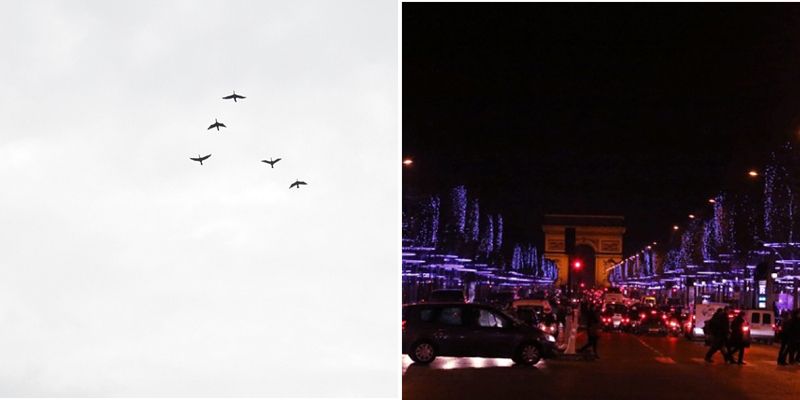 LEFT: Black birds against the grey Parisian sky RIGHT: Views of Arc de Triomphe while shopping on Champs Elysees
It

ha

s only been a few years since I'd last visited Paris before this time round, but after stepping off the plane, the place I was most eager on visiting was the Palace of Versailles - Its beauty is uncanny!
RIGHT (bottom): the details on our new Maison Martin Margiela x H & M tattoo top
Sights by the Seine in Paree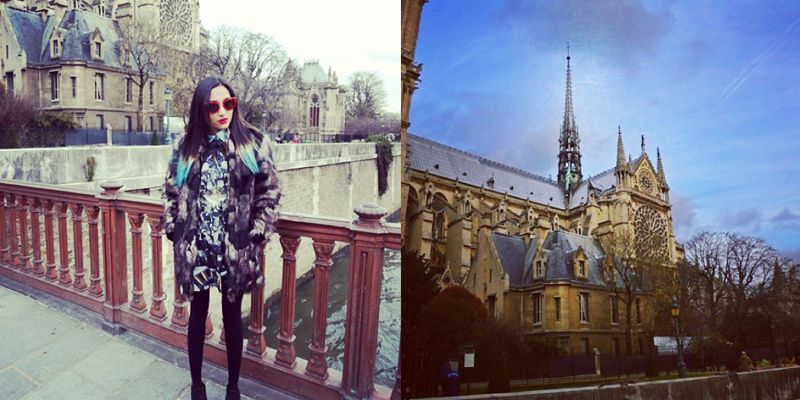 At Notre Dame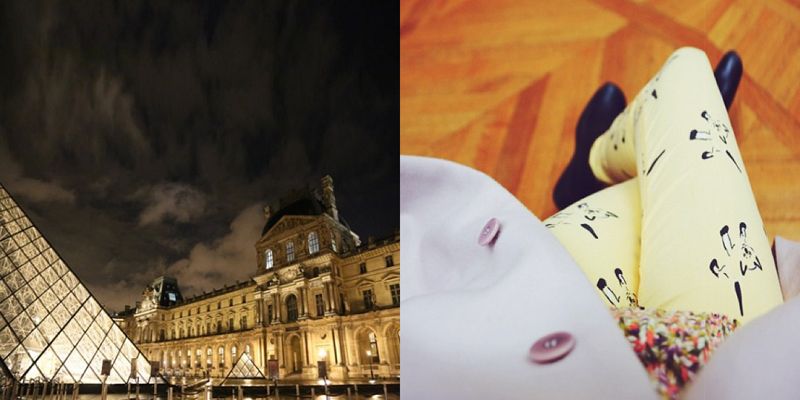 LEFT: Although I'm more a modern/postmordern art-loving kinda gal, I can't help but be in awe of the Louvre and its collections. My particular favourite is its Egyptian collection. RIGHT: J.W. Anderson's kittens on my legs
LEFT: An exhibition by Jean-Baptiste Huynh at the Lourve RIGHT: Us in front of the Louvre's biggest painting, 'The Wedding Feast at Cana'
Montmartre!
THE TREATS:
Whenever I'm on holiday I want to experience a country to its fullest, and that includes the food! I seem to lose my inhibitions and all notions of healthy eating when I'm on vacation!
LEFT: The delectable Religieuse 3 carats from Angelina - Choux pastry covering vanila crumble, three chocolate ganache (milk, white and dark) RIGHT: Difficult pastry choice decisions at Lauduree
LEFT: Delish tapas from a restuarant on La Rambla RIGHT: cold, creamy, crunchy goodness from the Cream and Fudge Factory
LEFT: Rainbow popcorn by the seaside RIGHT: An indescribably delicious ice-cream + brownie combo at the Haagen-Das cafe on Champs Elysees
LEFT: Macarons from Lauduree and Eiffel tour candy; RIGHT: Stopover snack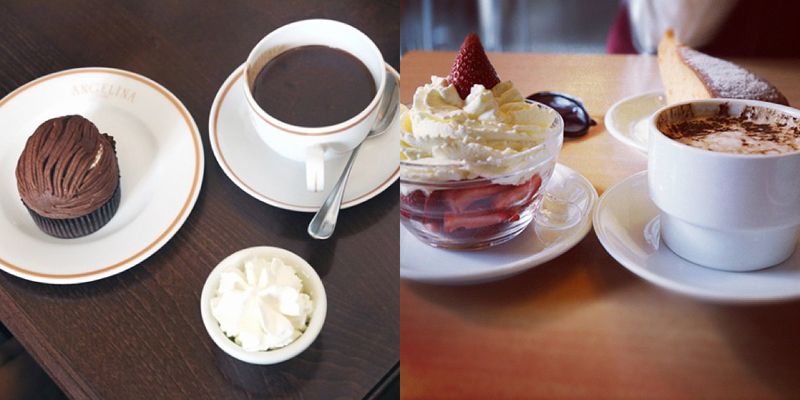 LEFT: The world's most delectable hot chocolate and Choc Mont Blanc from Angelina RIGHT: Strawberries and cream + carrot cake in Barcelona
LEFT: Caramel waffles during seaside strolls RIGHT: Tea time treat