Instagram is such a nifty part of my life that I love paying it a lovely little monthly homage on the blog. October has been a super busy month for me, in more ways then one. For starters it was our 20th birthday this month and so we were showered with love and fun times with our pals. October also had its fair share of fun events, tasty treats and sadly also a bucket load of uni assignments due before I dive into final exams next month! For the past week I've been under complete house arrest, studying for exams and eating my weight in sugary goodies to get me through it! I've got a heap of exciting posts to share with you though over the next few days so stay tuned if you please. Sorry about the repitition if you are already following me).Oh and my id is
@fablihareza
if you aren't but now are keen :D
xxxxxxx
1. A day's uni-wear - Maniamania truth pendant, Mac lip colour, Reading - A.C. Doyle's 'A Lost World', topshop sandals and a Romance was Born top that always makes me feel funky Cleopatra-esque
2. James St breakfast hangs with Babein' Emily. Tasfia is wearing a
Maurie and Eve dress and Cheap Monday boots; both from Alterior Motif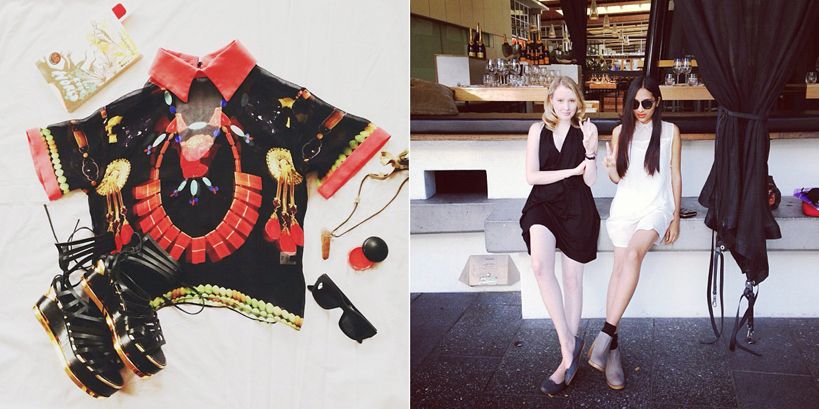 3. A desert that tops all the charts - my all time favourite, chocolate fondue from Max Brenner that I had during a family hang to celebrate my folks' anniversary
4. The outfit I wore out on my birthday - Josh Goot dress,
Molten Store necklace
5. Some early birthday presents from my dad - J.W. Anderson for Topshop top and jeans, Topshop boots
6. Cute hangs with my favourite bombshells, Sammi, Jess, Fran and Bianca
7. Pancakes!
8. The dress of my dreams - Gail Sorronda 'She's in Parties dress'
9. Guilty pleasures during exam times - my new Emma Mulholland rashie, treats and finally reading 'A Casual Vacancy'
10. Sneaky shot of Tasfia's sassy outfit - Friend of Mine dress, Topshop shirt, Alexander Wang bag.
11. Cute shopping date with my adorable mother; wearing Romance was Born
12. Recently after a super tiring week, I spent a whole weekend doing non-stop research work over at uni and so I took the Monday off and made it into a much needed weekday weekend!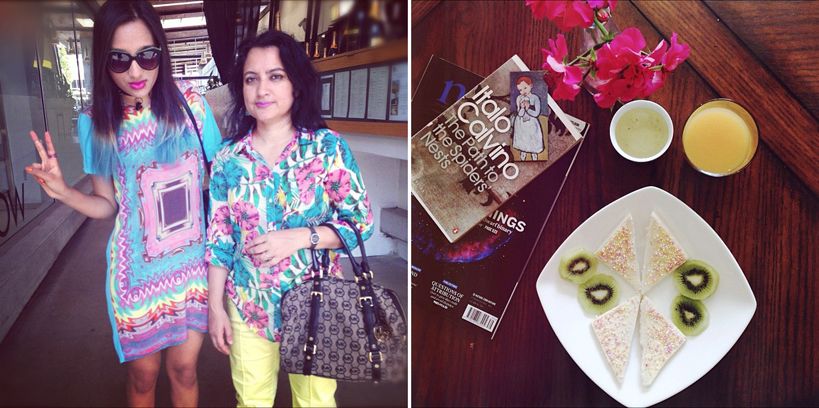 13. On our 20th birthday - about to devour our favourite caramel mudcake. I'm wearing a Fame Agenda dress and Tasfia is wearing J.W Anderson x Topshop jeans
14. Birthday gifts from beautiful peeps - the swankiest birthday card I have every received from Bianca and drool worthy shorts from Sammi
15. Our first pair of boyfriend jeans; by Camilla and Marc
16. Freestyle treatz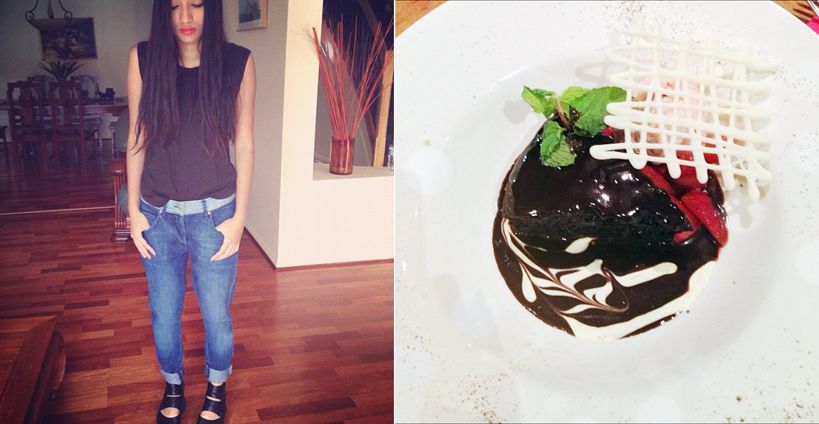 17. Starbucks hangs with Sammi and Tas
18. Banana bread ;O