I always love a swanky party, but I was super excited about this one coming along! If you've followed my blog for a while, you've probably heard me rave time and time over about how
Gail Sorronda
is my ultimate favourite designer - but you see it its little more than that. Back when I was sixteen and In high school, my 'style' was pretty dodge - lets just say I wouldn't have fallen under anyone's idea of 'fashionable'! But then what 'ignited' my love of fashion was coming across Gail Sorronda, from where I bought my first ever pieces of designer clothing. So I suppose you could begin to guess how uber excited I am that Gail has opened a flagship store on James St, my favourite shopping spot in Brisbane. My friends bet that I'll probably be in there waaay to often, doing all sorts of damage to my bank account - and I can't deny that they're probably right :D
xxxxx
Tas and I in the store with our palz Fran and Jess, both wearing Gail Sorronda pieces. I wore my favourite Gail Sorronda dress and necklace from a couple of seasons ago and Tasfia wore a Marni top, Friend of Mine 'Stardust' skirt, Gail Sorronda necklace
Inside of the Gail Sorronda flagship store. I love how the interior is minimal and lets the clothes speak for themselves but also has beautiful little individualistic touches - kind of like the Gail Sorronda aesthetic - Also all the pieces are feminine, fun and have a little whimsical element...Also I love how the new collection maintains her usual underlying back/white monochromatic colour palette but introduced little bursts of colour
A still from the beautiful fashion film featuring pieces from the new 'Oh my Goth' collection that was playing during the night...
My favourite dynamic duo, Bianca and Kellie, both sporting some polka dot goodness from Gail Sorronda's new collection...
These flatforms are exactly what my feet have been yearning for - hopefully I can make them mine soon!
Kirsten
,
Chloe,
Tas and
Fran
being swanky
Oh and along with the rest of the collection - I desperately wish I could make this mine too!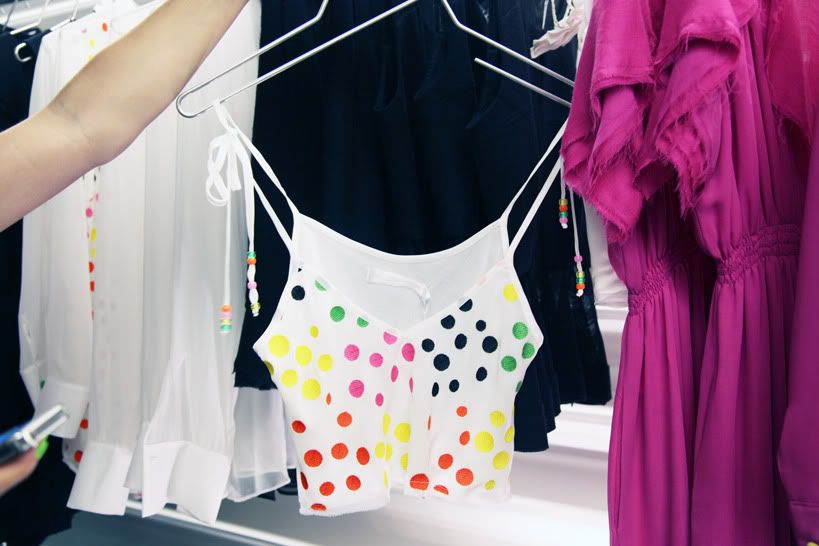 With the beautiful Gail Reid - designer behind
Gail Sorronda
More stills....
Tasfia with the ever charming Sam from
Moustache magazine
...