In order to break a bit of the monotony, I thought I'd share a few more glimpses into my life via instagram! Anyway, If you could go for more photos, or feel like getting some socially acceptable, mild stalking on, check my out on instagram - my id is
fablihareza
xx
1. I am a sucker for sweet treats. This is a delicious cake trio I had for afternoon tea in Turkey. This is a classic Fabliha move - I can never choose what I wan't so I try out a few different things!
2. A touristy shot of Tasfia and I in front of the Parthenon on one scorching day in Athens.
3. Some of my summer travel 'essentials' - my 3.1 Phillip Lim bag, Karen Walker Number One sunglasses, YSL neon lipstick, crochet bikini
4. Dessert from the Stokehouse: Vanilla bean milk pudding, cherry confit & gingerbread cookie. And it tastes even better than it looks
5. Some shopping from Turkey: Miu Miu Noir sunglasses and Tasfia's new Alexander Wang Diego bag. Our shopping plan of action was more to invest in a few great essentials rather than buy a lot.
6. Sometimes there is nothing better than lazing around in bed with a bowl of delicious cherries and a delightful book i.e. my illustrated Origin of Species. Oh and these glasses are by Chanel.
7. Divine french toast with stewed rhubarb from Campos in the Valley - definitely worth the long wait! Pairing it with some green tea makes it the perfect breakfast/brunch
8.Hanging around with this delightfully fashionable posse - Sammi, Bianca, Fran, Tasfia, Kaity and Chloe!
9. Details of Tasfia's outfit from a long Work/uni day. I love how harmonious all the different patterns and textures are in this outfit- Rag and Bone leather jacket, Antipodium shirt, Zara jeans, Marc by Marc Jacobs laptop case, Alexander Wang bag
10. While in Greece, we went to a modern Greek restaurant where we ordered a main along the likes of "Greek style lamb burgers" and this is what we got - I was definitely not complaining :)
11. We were fortunate enough to be staying in the hotel wing with the perfect view of Acropolis from our room window - the view was such a stunner; I could never get used to it!
12. My two sisters, Sierra and Tasfia; getting their squirrel on.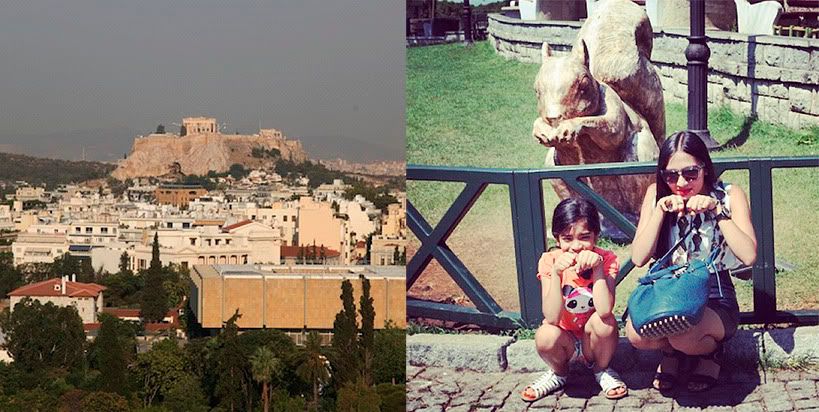 13. street cats finding shade on Poros in Greece. 14 . A chocolate lava cake I had in Turkey. Looks pretty simple but boy was it divine!
15.One day's accessories: Michael Kors watch, Karen Walker Number One sunglasses, rings by Chase Dakota and from Turkey. 16. Wearing my favourite cat sweater from Korea